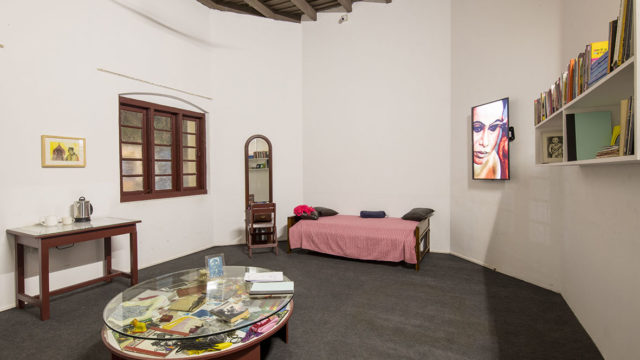 Sweet Maria Monument
In December 2018, three artists Aryakrishnan (Aryan), Gee Semmalar and Raju Rage collaborated at the Kochi- Muziris Biennale to create an anti-performance as part of a work titled 'Sweet Maria Monument'. The Sweet Maria monument was a space created by Aryakrishnan in memory of Sweet Maria, who was a well known political disrupter and everyday drama queen in Kerala. The Sweet Maria monument was in fact not a monument in the conventional sense of the word, it was an anti-monument- a reclamation of the fullness of our lives from the everyday necropolitics that condemns our bodies as disposable- as not yet dead/not deserving of life.
As we started discussing what we wanted to do together as transgender and queer artists but also friends in this exchange, we decided that instead of doing a conventional performance, we would share some sort of dialogue between the three of us in order to take away the pressure we often feel from audiences to expose ourselves in a certain way, the tendency to give into the desire to tell our stories in a way that fall into a victim narrative which happens regularly. As trans people we are so often putting our pain out there for consumption which feeds into this very easy and flattened sympathetic view of the trans experience. We were looking for nuance and complexity, so we decided that the audience would become irrelevant, or that they were important to be present to take witness of what would actually be centred – three transnational South Asian trans and gender non conforming people across caste sharing acts of collective care and conversation about what it means to be queer and trans in our contexts, within India but also within the diaspora. This did not however, come with any representational claims to the experience of being trans/queer.
Sweet Maria Monument, anti-performance, collective care and performativity Decolonial Queer Knowledges, Aesthesis, Memory and Practice, Decolonising Sexualities Network, The Palgrave Handbook of Critical Race and Gender 2022
anti-performance at Sweet Maria Monument, Kochi- Muziris Biennale, India 2018