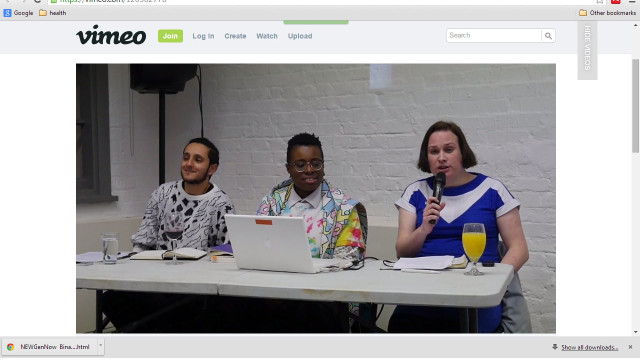 Cyber-Feminisms NEWGenNow: Binary Static
ARVE Error: Mode: lazyload not available (ARVE Pro not active?), switching to normal mode

1.35mins
Really engaging conversation about cyberfeminism with Evan Ifekoya and Juliet Jaques and myself, Raju Rage, contextualising subjects such as the content and methods in our creative work, working collectively (as part of Collective Creativity) and organising, QTIPOC politics in art, deconstruction of identity in our work and how that relates to cyber platforms, pros and cons of using online spaces, mainstream vs undeground/alternative media, questions around representation, negotiating institutions, failure and making mistakes, responsibility and accountability and creating infrastructures. All that as well as some good laughs and excellent questions from the audience! WATCH and check it out…
BIG THANKs to all who participated and to Rachel Falconer and SPACE for organising and the WHite Building for hosting.
I *mentioned Micha Cárdenas Shifting Futures: Digital Trans of Color Praxis article (check out her work)
To mark the first in a series of events exploring intersectionality in the digital age, SPACE presents Binary Static.
The series, part of the cyberfeminism programme NEWGenNOW investigated the tensions between (constructed or otherwise) gendered identity and network behaviour, particularly in relation to the intersectionality and trans discourses/ecologies.
The evening started with a screening of Raju Rage's 'cut your coat according to your cloth' followed by a panel discussion with Evan Ifekoya. Raju Rage and Evan Ifekoya are part of Collective Creativity Arts Collective.
Screening Details:
Project/ed: 'cut your coat according to your cloth' 6.45 mins
A haptic audio visual moving image narrative consisting of projected archival images depicting South Asian migration onto a gendered non conforming body.
Artist Bios:
Raju Rage is an interdisciplinary artist, creative-critical writer and community organiser who is proactive about carving space, self-representation and self-empowerment using art and activism to forge creative survival.
They are a transgender queer fem-inist person of colour based in London who is interested in the role of art in social change and transformative healing justice.
Working in live art, Raju focuses on de-con-structive techniques of resistance such as interruption, confusion, disturbance and anti-performance, primarily using embodiment and working with assemblages of sculpture and multi-formulations of unspoken narratives.
Evan Ifekoya is an interdisciplinary Artist, exploring the politicisation of culture, society and aesthetics. Appropriated material from historical archives and contemporary society make up the work. By 'queerying' popular imagery and utilising the props of everyday life, the aim is to destroy the aura of preciousness surrounding art. Central to this practice is an exploration into the ways that collaboration might take place.
With a critical approach to technology, aspects of how it mediates our lives permeate throughout the work. Performance is approached with the same sensibility by including elements of how we express ourselves digitally today. Social media and mobile technology act as co-performers in the live event. evanifekoya.co.uk
Juliet Jacques is a writer, cultural critic and journalist. Her fiction has appeared in Five Dials, The London Magazine, 3:AM, Necessary Fiction, Berfrois and elsewhere. Her Transgender Journey series for The Guardian documented her gender reassignment between 2010-12 and was longlisted for the Orwell Prize in 2011. She is a regular blogger for the New Statesman and her work has also appeared in TimeOut, The Daily Telegraph, The New Inquiry, The London Review of Books and other publications. She was the featured artist at UBUWEB in December 2013 and her book, Trans: A Memoir, will be published by Verso in 2015.
Feb 2015