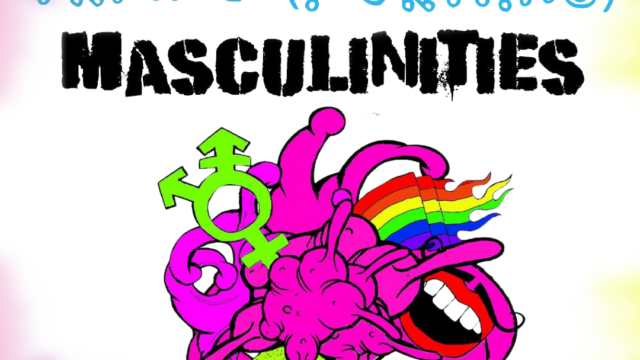 Spilling The T: Trans*forming Masculinities
in association with Healing Justice London
Trying to forge your masculinity with a lack of (role) models or diversity of masculinity? Tired of having to live up to other people's expectations of what your masculinity should be? Questioning what your positionality to patriarchy and feminisms are? Want to delve deeper in a group dynamic to unpack masculinities as trans* masculine people? Spilling The T: Trans*(forming) Masculinities is a series of 6 guided sessions, that will allow us to explore key themes as well as our collective concerns.
————————–
INFO
*Each session will be guided by a talisman resource and will involve reading/listening, conversation, sharing and embodiment activities with breaks. We will collectively create a resource by the end of the project to capture our learnings.
————————–
WHO
These sessions are for trans* masculine people in the UK from global majority (BPOC) backgrounds who are interested in unpacking patriarchy, harm reduction, transforming conflict and exploring trans masculine identities in relation to the wider socio-political issues we face.
————————–
GLOSSARY
*Transmasculinities refers to the plurality of trans masculine identities, a broad group of trans* people who may identify as men, male, transmasc, non-binary, genderqueer, gender non-conforming, masculine of center or more. It can be part of or solely your gender identity.
*Transformative Justice (TJ) is a political framework and approach for responding to violence, harm and abuse. It seeks to respond to violence without creating more violence and/or engaging in harm reduction to lessen the violence.
————————–
ACCESS
*Live transcription will be provided on zoom.
*4 sessions are online and 2 are in person at locations listed. Both are wheelchair accessible.
*Please note this is not therapy or a support group, though there will likely be therapeutic aspects. We will be guided by talismans and embodied experience to unpack the themes outlined in the sessions below:
* Please familiarise yourself with our ethos and guidelines for the session
Contact info@healingjusticeldn.org for any further requirements
————————–
SESSIONS:
Sun 12 Jun, 5-7pm Session 1: 'Patriarchy': patriarchy and feminism + activity. The Will to Change: Men, Masculinity and Love (bell hooks) + Relinquishing Patriarchy (Adrienne Maree Brown)
————————–
Sun 26 Jun, 5-7pm Session 2: 'Transfeminism': being part of feminist movements as masculine-identified people. Sons of the movement: FtM's Risking Incoherence on a Post-Queer Cultural Landscape' (Jean Bobby Noble)
————————–
Sun 10 Jul, 5-7pm Session 3: 'Surviving violence': intimacy, expectations, surviving and transforming harm. Stone Butch Blues (Leslie Feinburg)
————————–
Sun 24 Jul, 5-7pm Session 4: 'Accountability': transformative justice frameworks. The revolution starts at home confronting intimate violence within activist communities (Ching-In Chen; Jai Dulani; Leah Lakshmi Piepzna-Samarasinha)
————————–
Sat 13 Aug, Time 2-5pm Session 5: 'Alternative Masculinities': Tender Masculinity + being non binary in a binary world + dissident masculinities, what are our role/ models? With invited guest (performer + corporeal artist Nad MA)
2pm *public workshop and public performance event
3-5pm Closed Workshop
@Beaconsfield Gallery South London
————————–
Sun 21 Aug, Time TBC Session 6: 'Your Silence Will Not Protect You': zine culture/self publishing + the public sphere (blogs/ groups/chat forums). Bring your resources to share/ art materials will be provided.
*public event / art workshop: Creating a new Masculine Femininities zine focused on Trans*forming Masculinities.
@Phytology Nature Reserve, Bethnal Green, East London