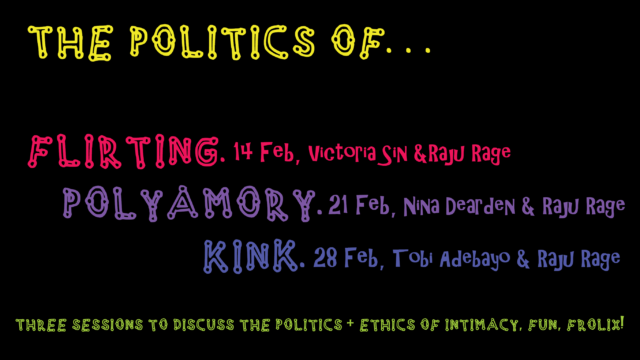 The Politics of….
The politics of Flirting, Polyamory and Kink. With Raju Rage, co-facilitated with Victoria Sin, Nina Dearden and Tobi Adebajo.Three sessions to discuss the politics and ethics of intimacy, fun and frolics in Flirting, Polyamory and Kink!
FLIRTING: 14 Feb 6-9pm
POLYAMORY: 21 Feb 6-9pm
KINK: 28 Feb 6-9pm
ADDRESS & ACCESS: Raven Row 56 Artillery Lane, Spitalfields, London E1 7LS. Nearest Tube/rail Liverpool St. Wheelchair accessible space and toilet (pls access via Frying Pan Alley and notify organisers in advance)
CONTENT: Intimacy is incredible but also challenging. We can sometimes feel we are not doing it right or measuring up. Often we are navigating intimacy in the only ways we can or know how, but that doesn't always feel enough or allowed. With intimacy often comes vulnerability and insecurity. It can evoke confusion, scary and painful feelings. Sometimes our own actions, in navigating those feelings, can be harmful or toxic. Navigating an intimacy that feels safe and fulfilling for ourselves and others is not always straightforward.
It can be hard to step out of the way we have been socialised – to let go of the ideals and norms that are placed upon us by other people and which have become ingrained. We aren't always taught to think critically about the ways our bodies and psyches interact with each other. Finding and sustaining an intimacy that is in tune with our emotional needs, our values and our politics means engaging in the work of unpacking and undoing ideas and behaviours, as well as creating and developing new models.
We would like to have a conversation collectively to find strategies for negotiating, coping and sharing our sexual and non-sexual selves.
WHO IS THIS FOR? These workshops are for everyone of all backgrounds who have an interest and practice in these subjects and their approaches* and would like to collectively unpack what these mean to us.
*We are approaching these workshops in a pro-queer, non-heteronormative but not anti-heterosexual ethos, meaning we are moving beyond gender and sexual roles and the projections of these onto each other's bodies. This includes an intrinsic decolonial lens and one that centres agency as wellbeing. We will endeavour to collectively create a non-hierarchical, confidential  safer space that respects and acknowledges a diversity of experience and expertise. These subjects can cause an emotional impact and we request that you take care of your own boundaries and needs as well as being aware of each other. 
DISCUSSION POINTS: Some things we would like to discuss as a starting point:
What are healthy ways to practice our desires? How do we create boundaries that respect each other's complex experiences and identities? How do we access intimacy in safe and affirming ways away from shame and phobias? How do we unpack the nuances and complexities of interactions and socialisations across bodies, culture and language? How do marginalised bodies access pleasure? How do we hold ourselves accountable for the ways we have been socialised and behave? How do the ways we behave intimately impact how we treat others in society in our everyday sexual and non sexual lives?
+ more….
PLEASE APPLY! If you would like to participate please answer the following questions and send to info@rajurage.com (or use the contact sheet) by Fri 7 Feb 2020 with the named workshop in subject header e.g. The Politics of Flirting
Which workshop would you like to attend? 50 words
Tell us about yourself… 100 words
What is your interest in this subject and what would you like to discuss? 150 words
What would you like to get out of this workshop? 150 words
[NOTE: if there are access requirements in answering these questions feel free to record an audio or video file or get in touch]
BIOS
Raju Rage
Raju Rage is an artist, educator, and activist concerned with the body, embodiment and how bodies are impacted by the structures and cultures around them. Their current interests are around value, care and resistance. Raju has a theirstory in activism, self and collective organised queer/ transgender/ people of colour movements and creative projects from which their politics and projects draw on and from. They have facilitated various community empowerment workshops transnationally and are a member of grassroots organisation Action For Trans Health. They are organising these workshops in order to carve space for collective conversations about health and wellbeing that tackle issues around intimacy and marginalized bodies, that connect to the structural, political and emotional, which are often neglected yet instrumental to our existence and survival. They are invested in models of restorative and healing justice.
Victoria Sin
Victoria Sin is an artist using speculative fiction within performance, moving image, writing, and print to interrupt normative processes of desire, identification, and objectification. Drawing from close personal encounters of looking and wanting, their work presents heavily constructed fantasy narratives on the often unsettling experience of the physical within the social body. They are interested in flirting'' www.victoriasin.co.uk

Nina Dearden
Nina Dearden is a psychotherapist who is passionate about inclusive therapy and works primarily with marginalised groups that tend to be excluded or sidelined in mainstream therapy. She is interested in trauma-informed practice, attachment, and working with the embodied self. She is excited to have conversations about relationships that acknowledge both the political and psychological complexities involved in building authentic, fulfilling relationships.
www.spacetobefree.co.uk/aboutme
Tobi Adebajo
Tobi is a community-focused artist, facilitator, performer, root worker, singer & writer who operates with prowess – centring their works on the depths and nuances of topics revolving around queer love, politics, sexuality, Yoruba culture & traditions…Their 'Afrosexuality Project' is on tour for its third year – creating inter-generational discourse and worldwide diasporic connections that continue to hold space for uncomfortable questions and constructive discussions – prioritising LGBTQIA+ voices inside of conversations about Sex, Desire, & Shame.
They are excited about discourse on the nuanced experiences of kink and what acknowledging / exploring this seemingly esoteric topic can mean for us – individually & collectively.