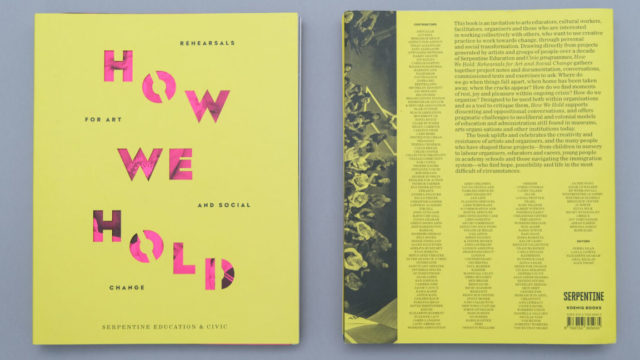 How We Hold: REHEARSALS FOR ART AND SOCIAL CHANGE
How We Hold is a new publication drawing directly from collaborative projects that span over a decade of Serpentine Education and Civic programmes. The book uplifts and celebrates the creativity and resistance of artists, organisers, and the many people who have generated and shaped these projects – including children in nursery, labour organisers, educators, carers, young people in academy schools, and those navigating the immigration system – who find hope, possibility and life in the most difficult of circumstances.
his book is an invitation to arts educators, cultural workers, facilitators, organisers and those who are interested in working collectively with others, who want to use creative practice to work towards change, through personal and social transformation. Drawing directly from projects generated by artists and groups of people over a decade of Serpentine Education and Civic programmes, How We Hold: Rehearsals for Art and Social Change gathers together project notes and documentation, conversations, commissioned texts and exercises to ask: Where do we go when things fall apart, when home has been taken away, when the cracks appear? How do we find moments of rest, joy and pleasure within ongoing crisis? How do we organise? Designed to be used both within organisations and as a tool to critique them, How We Hold supports dissenting and oppositional conversations, and offers pragmatic challenges to neoliberal and colonial models of education and administration still found in museums, arts organisations and other institutions today.