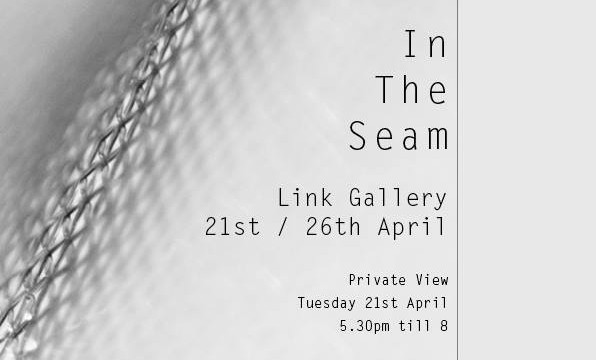 In the Seam – Link Gallery
An exhibition exploring the theme of cultural identity and diaspora, within the framework of contemporary art.
Showcasing different viewpoints by 12 artists across the UK on a variety of issues that arise when cultures merge.
Artists Include :
Asma Shatwan
Callum Pepper
Ciarán Hodgers
Raju Rage & Rasia Kabir
Rebecca Ishaque
Lloyd Forse
Nadia Abdouni Younes
Qainaat Irfan
Sabika Hassan
Saffina Bhatti
Samela Otovic
Curated by Qainaat Irfan. Apr 21 -26 2015
A collaboration by Raisa Kabir and Raju Rage who have worked on individual and collaborative textile/art practices, using cloth as a binding theme and thread, as a decolonising tool of resistance and metaphor. Using cloth, in installation and performative pieces, we address the violences of colonialism, in conjunction with carrying a gendered diasporic South Asian queer identity, in order to unpick the meanings of cotton cloth on the brown queer body. We are particularly interested in the British colonial migration of South Asian labour to the rail roads of East Africa and to textile mills of Britain, in places such as Manchester.
"There is More at Stake Than Just 3 metres of Cloth" A cloth to be worn as a turban, conceptually conceived by Raju Rage, was collaboratively designed and hand woven by Raisa Kabir. Exemplifying the migrations of South Asians from North India/Panjab to East Africa to Britain, and the symbolism encoded within the turban. It signified a visual recording of this complex migration history, the colours which begin brightly coloured as worn in India, are symbolic of the transition of culture, as they migrated again and again, in order to survive the racism, and violences of living in the diaspora, the colours sobering until the cloth is rendered plain black. The final woven turban was then used in a performative piece by Raju Rage who wore the cloth on their non binary body, reiterating the struggles of having to define gender, culture, race, ethnicity and sexuality in the diaspora.
5 x projected images from performance as part of Guest Projects Residency London 2014
Video of performance 3.02mins

Images of other artists work: