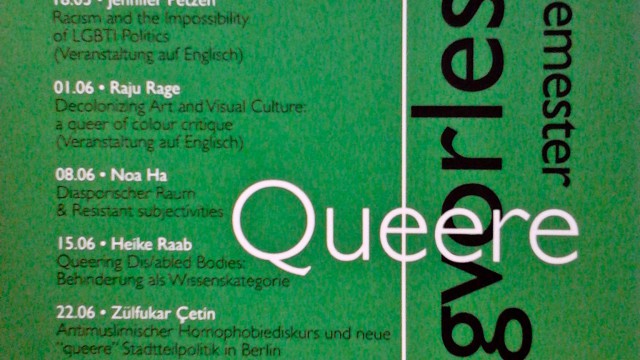 'Decolonising Art and Visual Culture – a qtipoc critique' Lecture
My first Independent Scholar lecture in Frankfurt as part of the Queer lecture Series  'Knowledges….New Knowledges' organised by the Autonomous ASTA-gay speech of Johann Wolfgang of Goethe University.
I wore my specially crafted QTIPOC History patch, designed by artist Rudy Lowe and facilitated a lecture that highlighted the main issues faced by QTIPOC artists and then in response, the creative strategies of resistance.
'When queer artists of colour create their own images, write their own histories and devise self-representations' we are dispelling the binary depictions of ourselves and complicating the categories. We are taking control of our own depictions.  We are resisting essentialism, reductionism, naturalisation and complicating representation.' Raju Rage
I delivered the lecture with personal individual and collective experience, theoretical critical insight, visual contextual examples, archival material aka legacy as well as conversation. The students response was positive and I was told that my lecture was 'not like the usual rigid lectures by German lecturers', that they liked that it was 'personal and passionate' which was refreshing.
I would like to build on this lecture and share this knowledge in many more institutions so that we can fill the gaps in institutional knowledge production with radical pedagogy and replace those gaps with spaces that we create for ourselves to breathe, nurture, nourish, share, build and grow. Lets remember that knowledge producton does not only originate from and remain in institutions but there is a wealth of information that exists and permeates outside of those white walls in grassroots activist and colourful creative community spaces.
'The more ignorant people (of colour) are of their own heritage and legacies and more importantly ignorant of the workings of the structures that oppress them, the easier it is to become the stereotypes that are perpetuated and to be marginalised. That is why decolonisation is cross generational work that must also be done in coalition with other groups in order to share knowledge and resources.' Raju Rage
Lastly lets remember that collectivity is POWER!
'being written out of history can happen to you. There is no safety in collusion with those who want to oppress our art and supress our voices. They will turn their weapons on you and who will be there to help you if your contemporaries no longer exist?' Maud Sulter, artist and writer
*if you would like me to facilitate this lecture at your institution or organisation please contact me!
Frankfurt June 2015