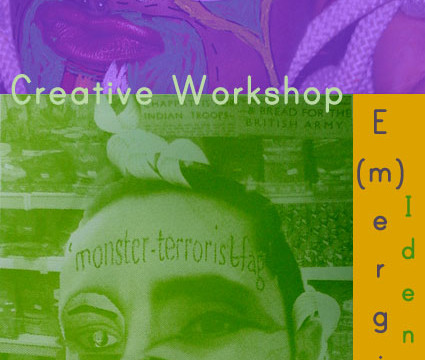 (e)merging Identities Workshop
Sunday (Sonntag), 3 August 2014, 12:30-17h
(E)merging identity and creative practice
a creative & critical talk & workshop with Evan Ifekoya & Raju Rage.
Evan Ifekoya and Raju Rage began the (e)merging Identities Workshop discussing their own artisitic practice with some pertinent questions about the ideas behind 'unperformance' (Evan) and 'anti-performance' (Raju), their processes of making work such as the use of uncomfortability and humour as tools of resistance, how theory and critical thought impacts their work and the importance of collaboration and collectivity in their role as political artists. This led to a critical- creative workshop that was presented as
a space to critically discuss and reflect on the nine micro cultures that make up our identity – class, race, ethnicity, gender, language, religion, ability, age and geography. The aim is for each participant to examine each microculture individually and explore how each has contributed to their whole person.
The workshop began with a free flowing conversation relating to objects and a piece of writing that participants were each asked to bring to the session that reflected their identities or that they related to in some way, in order to unfold the above microcultures in a more organic way. From this, we individually produced a series of portraits that were presented to the group at the end of the session, using transparent (OHP) paper, pens, tape, a camera and projector and a  few other stationary materials. Some examples were using a nearby photoautomat, using makeup and photography, folding paper, making masks and films, and 3D abstract portraits. Through this creative and transformative process, we performed and actualised future selves that engaged with our past or atleast got a little deeper into what our identities entailed, were shaped by. By the end of the session we achieved some empowerment in temporarily creating identites that we wanted to embody and present for the session. The final portraits were documented using a camera and in collaboration with the accompanying text were turned into a zine – (e)merging identities workshop zine
nGbK Berlin Aug 3 2014