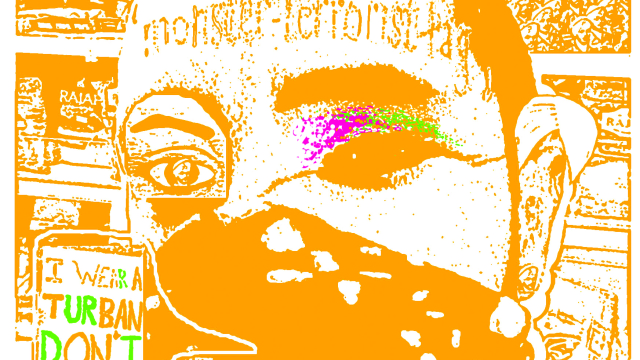 'What Is Queer Today Is Not Queer Tomorrow'
nGbK Berlin 'What Is Queer Today Is Not Queer Tomorrow' Jul-Aug 2014. Performative Installation and Assemblage of 'The Dilemma of the Diaspora to Define".
'Placed in a world caught in endless transition between absence and presence, in/visibility and the dilemma of defining, join 'monster terrorist fag' on a diasporic voyage towards the fragile contested borders of the u/nknown for a performative installation-assemblage cohered through sensation, vibration, echoes, soundscapes, feedback loops, time travel and recursive folds.'

German translation: 'Verortet in einer Welt gefangen in endlosem Pendeln zwischen Ab- und Anwesenheit, Un/Sichtbarkeit und dem Dilemma des Definierens, begleite "Monster Terrorist Fag" auf einer diasporischen Seereise hin zu den brüchigen, umstrittenen Grenzen des Un/bekannten für eine performative Installation-Assemblage zusammengehalten durch Sinneserfahrung, Vibrationen, Echos, Geräuschlandschaften, Feedback-Schleifen, Zeitreisen und rekursive Einfaltungen'
This work consisted of an assemblage of culturally coded objects. These were manipulated, interrupted, disturbed and confused in an attempt to de-con-stuct identity, as a south Asian Trans-Queer person, exploring the conflict and tension produced as a form of resistance. This was communicated through sculpture, sound narratives and embodiment, with a performative installation (and later de-installation) of the work. The thread being woven was: what is the desire to know and what can we know?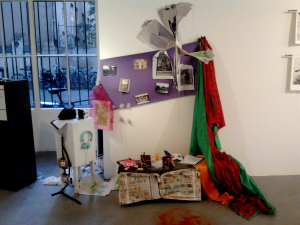 A main feature was the persona created as a vehicle to embody all the disparate elements of my personal constructed identity, 'Monster Terrorist Fag' who had their face painted monster green and metaphorically tore up the place that night, intimidating instead of entertaining and maybe even considered threatening by some for various intended and unintended reasons.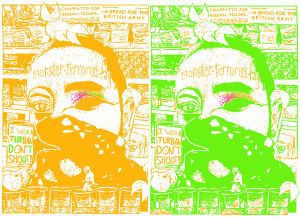 'Monster Terrorist Fag' is a concept inspired by Jasbir K Puar's Terrorist Assemblages chapter 'The Turban is not a Hat: Queer Diaspora and Practices of Profiling' which I originally saw in Sikh Formations Vol 4 number 1 2008 on page 52.
(sculpture/ soundscapes/ assemblage/ live art installation)
Performative Installation video (38 min):
 Exhibition Assemblage images: